MAPPLEWELL AND STAINCROSS
Mapplewell began life as a hamlet, as it grew in size it began to merge with neighbouring hamlet, Staincross and ever since the histories of the villages have been linked together.
As in Staincross, nail making was an important industry in Mapplewell in the 17th Century. However by the late 1800s mining was the predominant source of employment, after the sinking of a deep mine in North Gawber.
In 1761, John Wesley preached in Mapplewell, at a time when villagers had to go to the church in neighbouring Darton to worship. After Wesley's visit, many chapels were built in the village, of which only a few remain.

Nearest Town is Barnsley, a town in South Yorkshire, England. It lies on the River Dearne, 11.8 miles (19 km) north of the city of Sheffield, and 14.5 miles (23 km) west of Doncaster. Barnsley is surrounded by several smaller settlements which together form the Metropolitan Borough of Barnsley, of which Barnsley is the largest settlement and administrative centre. Barnsley has a total population of over 232,000 (Cenus 2011).
Historically a part of the West Riding of Yorkshire, Barnsley is notable as a former industrial town centred on coal mining and glassmaking. Though these industries demised in the 20th century, Barnsley's local culture remains rooted in this industrial heritage; Barnsley has a tradition of brass bands, originally created as social clubs for its mining communities. Today, Barnsley is commonly referred to as "The Tarn" by many of its residents.
Mapplewell and Staincross are accessed via Darton at junction 37 of the M1 motorway and A61 Wakefield to Barnsley road. Nearby Darton has a railway station served by the Hallam and Penistone Lines. Barnsley F.C. is the local Association Football club
Site Created and Maintained by Anthony Gough
If you have a complaint against this website or any of its content
please read the Legal Disclaimer
Other Sites like this: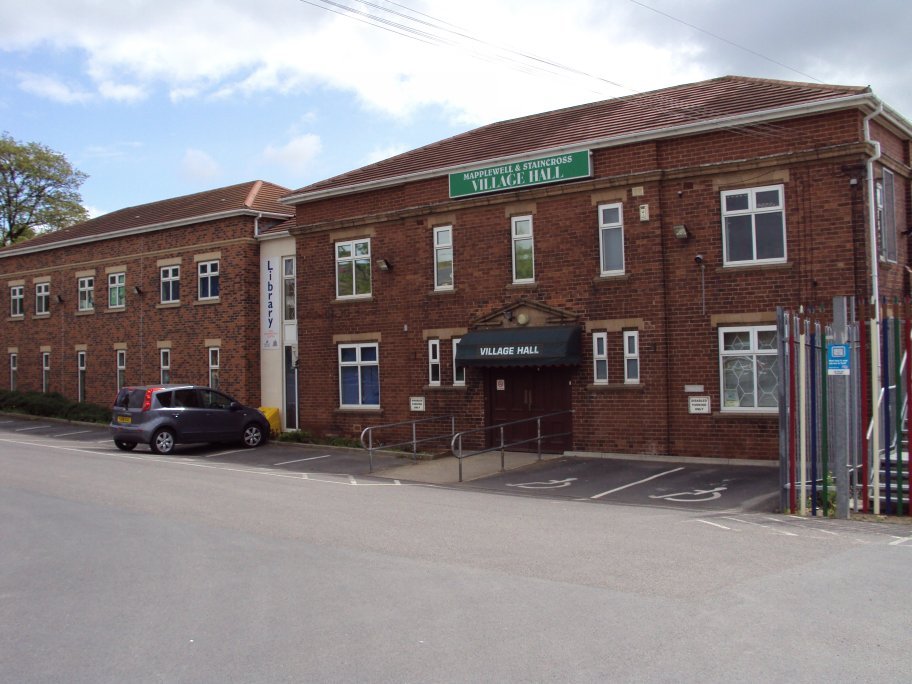 Mapplewell And Staincross Village Hall
FIND US ON GOOGLE, MAPPLEWELL'S COORDINATES ARE:
53 deg 35 mins 11 secs N, 1 deg 30 mins 9 secs W
OLD PHOTOS OF MAPPLEWELL
Contact me @ admin@mapplewell.org.uk